Pangaea Logistics presents an exciting risk/reward opportunity for Cable Car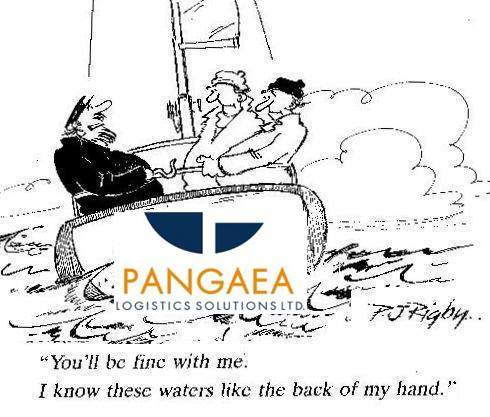 In June, Cable Car participated in its only private placement of a publicly traded security, roughly doubling its longtime holding in Pangaea Logistics (PANL) and making it the firm's largest position. Cable Car Capital sees Pangaea Logistics as a complex equity that they believe presents an exciting risk/reward opportunity for investors willing to overcome a few biases.
What Cable Car is trying to accomplish and the reason they considered the placement of the company is because Pangaea Logistics was an existing holding and they have a longstanding relationship with the management team. The fund has no intention of becoming a serial investor in private investments in public equity (PIPE) transactions. Although there is nothing inherently wrong with a company raising capital in a secondary offering, according to Cable Car. The fund considers the Pangaea Logistics offering to be a rare opportunity to purchase a significant stake in a business well below its intrinsic value.Cable Car sees in PANL a contrarian investment opportunity that they consider to have limited fundamental downside and very significant potential for price appreciation.
When the fund first wrote about Pangaea Logistics in May 2015, the stock traded at about the same price per share, with the drybulk shipping industry in crisis and the Baltic Dry Index below 600, on its way to a 30-year low. The industry was heavily oversupplied, with spot day rates below operating costs, causing widespread financial distress. Back then they argued that the company's flexible chartering model and long-term contracts would enable the company to weather the downturn comfortably.
In their view, the intervening two years have thoroughly validated that thesis and proven the company's business model differentiation. Pangaea Logistics was the only US-listed drybulk operator to remain profitable in both 2015 and 2016. The company generated more than $40 million in operating cashflow during the period, which was primarily reinvested in completing a planned acquisition program, adding three additional vessels to the owned fleet to support new contracts. PANL even withstood the 2016 bankruptcy restructuring of its largest customer, Noranda Aluminum. The Noranda contract is a 10-year contract for the transport of bauxite from Jamaica to the US and a key reason for Pangaea's differentiation.
Controversial at time of initial investment was the special purpose acquisition company sponsor's contention that PANL is more akin to a logistics business than a traditional drybulk shipping operator. The Noranda business is perhaps the best demonstration of this argument. When competing in a commoditized industry like drybulk shipping, economic theory suggests to identify a specialized niche like the transportation of minor bulks that is not actually commoditized. Cable Car sees the transportation of bauxite as one such niche, as it requires specialized handling and expertise. Absent proper safeguards, bauxite can liquefy and capsize a vessel. The International Maritime Organization has issued several warnings about transporting bauxite since a fatal accident by another carrier in 2015. Due in part to its long experience with the dangerous cargo, Pangaea was able to retain the Noranda contract in the restructuring at about a 20% discount to its previous compensation, still a significant premium to rates for other cargoes. Moreover, the new contract contained a freight escalator tied to the price of aluminum, the end product of bauxite.
Of Pangaea's fleet the ice-class trade is the most significant.Through a consolidated joint venture, Pangaea owns or operates a majority of the world's supply of ice-class 1A drybulk tonnage, enabling the company to earn a premium for operating routes that are inaccessible to ordinary vessels. In winter months, ice-class vessels have increased profits in the Baltics and Canada. In the summer, they are the only drybulk ships that can traverse the Northern Sea Route. The NSR is a route from Europe to Asia through the Arctic that can save nearly two weeks of travel time. When fuel costs are higher and/or day rates are sufficiently elevated, ice-class vessels can justify charging a substantial premium for this savings.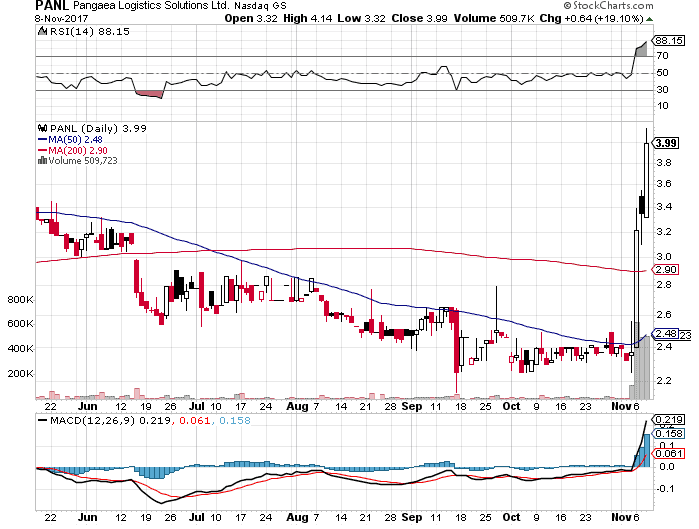 In their most recent Q3 earnings announcement they reached another important mile stone which will position the company for further growth:
The Company has executed a memorandum of agreement to purchase  the vessel M/V Tenmyo Maru, 58,749 dwt., built in

November 2008

at Tsuneishi Group (Zhoushan) Shipyard.  The ship is expected to be delivered from its present owners in December, and will be re-named Bulk Pride. Pangaea had also taken delivery of two ultramax ice-class 1C dry bulk carriers from

Japan's

Oshima Shipyard in January, and purchased its Bulk Freedom, built 2005, in June. Together, these purchases mark a strong growth year for the Company.
As Cable Car Capital discussed in the past, in addition to its contract activity, PANL operates a spread business that has consistently identified short-term trading opportunities. Although Pangaea is not as directly exposed to day rates as a traditional vessel owner, this chartering business benefits from increased activity regardless of the rate environment. In addition to the novel business model, unpopular sector, and illiquidity, the other reason opportunity exists in PANL shares is that the company is very challenging to value. The company fully consolidates its 33% equity ownership in the ice-class joint venture, which it controls.
According to the fund PANL is unique in the industry in that two-thirds of its fleet is chartered in on a short-term basis. Ignoring this source of earnings is the rough equivalent of valuing a retailer that does not own its real estate at zero. They also think liquidity in the shares may improve if the shareholder base changes after the restricted period ends and the upside from a recovery in the shipping industry could be dramatic.
Cable Car Capital – Letter to Investors and Investment Thesis PANL