Get access to powerful trading strategies & ideas with our publication
Exceptional trading strategies have asymmetric risk/reward ratios. Most material is not publicly available or complicated.
Market practitioners need to know what works and how to implement it. We need less math and more tutorials with working strategies.
Get a consistent stream of new ideas and quantitative trading strategies and combine it with our expert advice to reach your objectives fast.
We publish

top-notch research usually only available to institutional investors.

Our ideas can be applied to trade stocks, bonds, ETFs, futures, currencies and cryptocurrencies.
Join over 1,000 practitioners who already have a head start.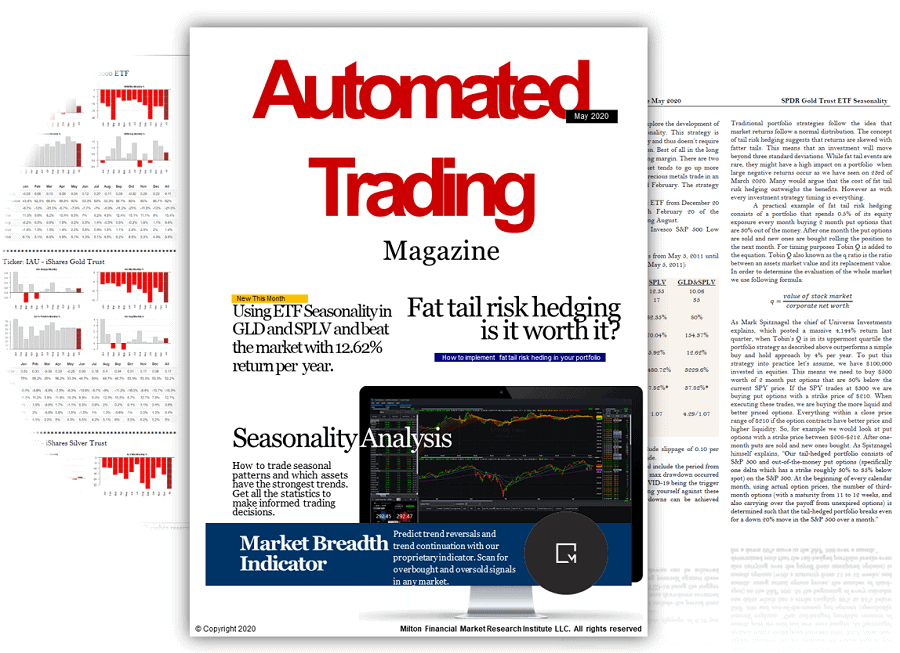 Free Issues: Hand-picked editions of Automated Trading Magazine. Yearly subscribers get access to all back issues.
Automated Trading Magazine
Subscribe today to get access to:
---
We are continually building a database of algorithmic trading strategies.
Learn how to build your own algorithmic trading strategies with our building blocks.
We test ideas and publish code in R, Python and EasyLanguage.
We read a lot of research papers and select the best trading rules explained in plain language with performance metrics and risk assessment.
---
Discover how to transform data into knowledge and seize opportunities in the markets.
Learn how to become more consistent by gaining access to our resources.
We create trading strategies that you can train and implement using machine learning.
Our research covers short-, mid- and long-term trading across a range of different asset classes – stocks, bonds, futures and cryptocurrencies.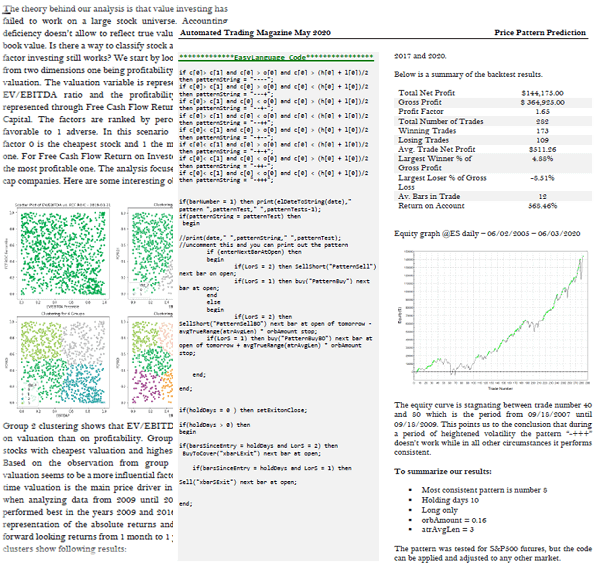 What Our Readers Are Saying
"I'm impressed with how the content is kept up to date with new strategies. They present all the important facts, theory and code."
William Wong, Individual Investor
"I love your Magazine. It's one of the few publications I've come across that explains things clearly with ideas that can be implemented right away."
Peter Hodgins, HSBC Quantitative Research
"Your research has been very helpful for me as an aspiring asset manager. It is a valuable resource for serious market practitioners."
Jean Dufort, BNP Paribas Senior Analyst
FAQs
Stuff people ask us…
What's the difference between the monthly and the yearly subscription?
The monthly subscription gives you access to our current month issue and future issues as long as you stay a subscriber. You can also download them to your computer. The yearly subscription gives you access to the monthly issues and all back issues that we have published so far with your own personal archive to access the files whenever and from wherever you like.
What kind of strategies are included in your research?
We are covering algorithmic trading strategies and ideas for stocks, bonds, futures, ETFs, cryptocurrencies and currencies.
What time frames are the strategies covering?
The time frames are long-term, mid-term and short-term (intraday trade execution). We do not cover high frequency trading because traders use their technological superiority to take advantage of the slower traders who do not have access to the technology needed to trade as quickly as they would like to. Most of our readers do not have the technological superiority or computer power therefore it doesn't make sense to do any research in this direction.
Does your research cover algorithmic trading strategies?
Yes, of course. Automated Trading Magazine is just the name of our publication. You can choose to trade the ideas we publish either automatically or manually. This is totally up to you.
What else is included in the subscription?
We publish research that is related to algorithmic trading which not only includes trading strategies but also ideas, code and knowledge that enables you to do your own research and come up with your own ideas. We are here to push you in the right direction.
Do you offer research on high frequency trading?
No, we don't. It is too much data and too much computer power needed. Most of our readers don't have the necessary $$$ to build something like this. Watch "The Hummingbird Project" and you will understand what we mean.
How often do you publish the magazine and when?
We publish our magazine once per month at the beginning of each month (between the first and third day of each month).
Are the strategies simple enough to understand & implement?
Yes, we seek to hit the sweet spot between simple and complicated enough. Simple enough for you to understand and implement. Complicated enough for you to think, "Hey, this is great I wouldn't have come up with this idea on my own, not in a million years".
Do I need programming skills and what programming languages are you using?
Programming skills come in handy but are not a necessity. We focus on Python, EasyLanguage and R. We keep it as simple as possible leaving rocket science to rocket scientists.
Do you offer any support?
Yes, this is very important to us. It is also something that sets us apart from all other publications. We are here for you whenever you need us to help you with your quantitative trading related questions/research.
So… I still don't get what you specialize in?
Trading strategies and ideas. Plain and simple. For idea generation we browse various research and journal databases, get new ideas from our motivated readers or come up with something unique on our own. To test our ideas we use Python, EasyLanguage and R. The code is also published in our articles.
Will I find the holy grail of trading in your magazine?
No. If you are just out for the fast buck and are into day-trading the shit out of the market because it sends chills down your spine then you should not sign up for our publication. Go somewhere else and waste your time and money. However, if you are serious about trading, ready to put in the hard work and are really committed to become better at your craft then congratulations you have come to the right place. Give yourself a big round of applause.
What happens after I sign up?
You get an email with instructions on how to access our publications. Hint: password protected. You won't find anything on our server so stop the hacking attempts. Thank you.
Can I write an article for the Automated Trading Magazine?
We would be delighted to publish your article. For details read
here
or contact us via
email
with subject line "contributor". The benefits are obvious. You put yourself out there and on the radar to a large audience that is serious about quantitative finance and algorithmic trading. Our subscribers are individual investors, professional traders running their own funds and people working in the finance industry in various positions.
What you will not find in our publication?
The holy grail of trading or push a button and get rich quick schemes. No pain, no gain, my friend.
Is your publication worth the money?
Really? Come On, Man.
What payment methods do you accept?
Visa, Mastercard, American Express, Discover, Diners Club, JCB.
Is there something else that I should know?
We are following the red bull approach. Give you wings to fly and make sure that your flight into the world of algorithmic trading doesn't end in a disaster. Invest most of the profit back into the business. Continue to provide great customer experience. Introduce additional services as we keep expanding. If you have any ideas let us know.
Jump right into it
Discover the fastest way to bring you on track and read our blog.
Top articles include:
Learn from the pros
Read the letters. Get years of experience in a couple of days.
Top investor letters:
Useful resources
Browse through our list of useful resources and database.
Top resources: