Short Thesis – the strange tale of WINS Finance Holdings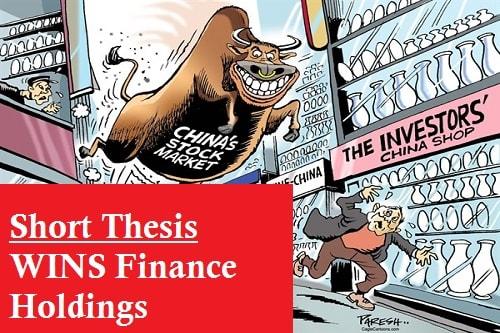 Short thesis WINS Finance Holdings (WINS)
On October 13th, 2016 WINS Finance Holdings (WINS) closed at $25.22. On March 09th 2017, the obscure Chinese financial company, headquartered in New York, trades at $315. Yes $315. That is not a typo. Up +1200%. The high was on February 8th, 2017 WINS closed at $452.
On its website, WINS states that it is a diversified investment and asset management company headquartered in New York and listed on NASDAQ. The company is focused on identifying value accretive investment opportunities and assets in China and the United States…
The average daily volume in WINS is 4,145 shares. These figures suggest that retail traders have piled into the company. According to SEC filings, the company reported total gross revenue of $2.3 million for the quarter ended September 30th, up from $2.2 million the prior year. It reported net income of $3.1 million. By its own admission, this is a finance company, although that hardly explains why net income is greater than gross revenue. These numbers look funky. By the way the company's market cap is a whopping $6.31 billion. This is not a typo that's billion with a B.
On December 13th, Reuters reported that Freeman Fintech was acquiring a controlling interest in Wins Finance Holdings Inc. The agreement said the buyer was purchasing 67% of Wins and the purchase price for the shares is $19.35 per share, subject to reduction based on the Company's net asset value at the closing of the transaction. Our math would indicate the company Wins Finance Holdings should be worth no more than about $346 million.
This is where it gets even stranger. Freeman Fintech trades in Hong Kong under the symbol 0279 and has a market cap of 6.7 billion Hong Kong Dollars. At a conversion rate of 7.7649 HKD to the U.S. dollar, Freeman Fintech is valued around $865 million U.S. The current stock price is HKD 0.55.
Wins' stock valuation is a puzzle. Investor Jacob Ma-Weaver, at Cable Car Capital, notes that most of the stock's gains occurred on tiny volumes of odd-lot trades and end-of-the-day transactions. Some 40% of Wins' trades on a recent day were for one share apiece.
The company says it's baffled, too. "We don't know why the share price has risen so much,…as far as the business is concerned, there have been no drastic changes." I think the alarm bells should start ringing by now. If a stock skyrockets by over 1000% it implicates that they have a prosperous business everybody wants to be a part of then why should someone sell it for a 90% discount !?!?!?! Investors could be skeptical about the deal because Freeman said in October that Hong Kong's Securities and Futures Commission was suing to disqualify 10 Freeman managers and directors for fraud they allegedly committed in a previous acquisition.
The little company's incredible jump runs counter to the disappointments in reverse-merged China stocks, which burned many American investors several years ago. They bought stocks like Deyu Agriculture–a Beijing-based grain processor later changed to (LUCC US) whose shares slid from seven bucks to pennies after being brought to the Nasdaq in 2010 by some of the same financiers and managers who went on to create Wins Finance via a reverse merger in October 2015.
Further as Barrons notes "Manhattan HQ address that Wins lists in filings is the same floor of a Times Square tower occupied by Forefront Capital, an investment bank that employed Wins' founding president and director Gang "Richard" Xu. His boss at Forefront was another Wins founding director, Brad Reifler, a controversial financier whose grandfather founded Refco, a futures broker that collapsed in 2005."
On January 25th 2017 it was reported that Wall Street veteran Bradley Reifler was facing a stark choice: He could pay J.P. Morgan Chase Bank $2 million—money he says he doesn't have—or go to jail. So Mr. Reifler co-founder of the once high flying boutique brokerage Pali capital devised a third alternative. He filed for bankruptcy.
Company's financials
Revenue via Commissions and Direct Financing Leases: "Our net revenue, which consists primarily of guarantee commissions, direct financing lease interest income, and financial advisory and lease agency income, was $5,508,284 for the year ended June 31, 2016, representing a decrease of $9,338,191, or 62.9%, from $14,846,475 for the year ended June 30, 2015."
Short term investment "We make short term investments in asset management products issued by banks and financial institutions with original maturities of one, three or five years but which could be redeemed at any time. Annualized interest rates of the short-term investments ranged from 5% to 15%. … Interest on short-term investments was $13,958,540 for the year ended June 30, 2016"
Is this potential fraud with insider manipulation truly worth 480x net income ?!?!?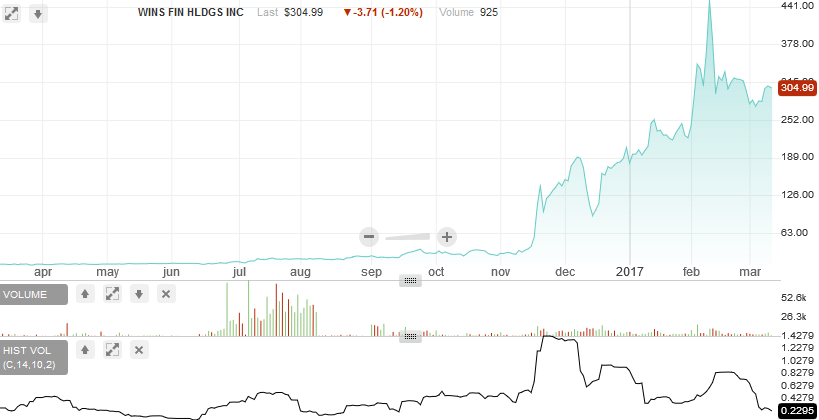 Summary:
Lawsuits / SEC investigations of manipulation by insiders and management will lead to a sharp selloff. Most recent one ->
February 16, 2017 / The Pawar Law Group announces it is investigating potential securities claims on behalf of shareholders of Wins Finance Holdings Inc. (or the "Company") (WINS) resulting from allegations that WINS may have issued materially misleading business information to the investing public.
On December 9, 2016, an analyst published a report calling into question WINS's management's past actions, and providing evidence suggesting that WINS may be the subject of paid stock promotions. In response, WINS's stock price fell from $172.51 to $138.00, damaging investors. Then, on December 12, 2016, the same analyst reported that a site visit to WINS's purported headquarters had revealed that WINS did not have offices there, suggesting that WINS may have misled investors about its business operations. On this news, shares of WINS fell $27.38 per share or over 19% to close at $110.62 per share on December 12, 2016.
Market should eventually recognize that WINS is overvalued based on valuation and recent 90% discount (to current market price) purchase of a controlling stake by a public company.
The CEO and CFO of the company have significant track record of destroying shareholder value, alleged fraud and history of stock manipulation.