How to invest in water the next big thing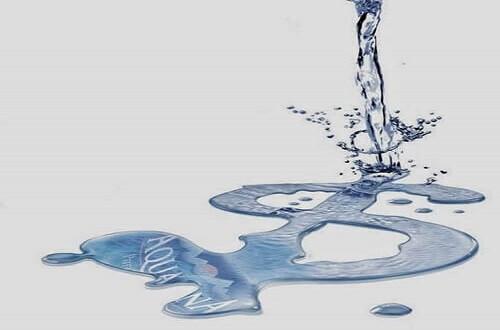 Water the gold of the future
Is it the next gold rush or just a hype ? We all remember the movie The Big Short which tells the story of four investors who predicted the credit and housing bubble collapse in 2008. The first of these investors that predicted the burst of the housing bubble was Dr. Michael Burry, who is portrayed in The Big Short by Christian Bale. The last line of the movie, printed on a placard, is: "Michael Burry is focusing all of his trading on one commodity: Water."
This got us thinking if such a smart investor with a respectable track record and somebody who is famous for seeing the big picture well ahead of others is telling us that water is the next big thing it might be worth a deeper look into it. So how can you invest in water ? And why you should invest in it anyway ?
Depending on where you live you might take fresh water as granted. The images below show blue spheres representing relative amounts of Earth's water in comparison to the size of the Earth. Are you surprised that these water spheres look so small? They show that in comparison to the volume of the globe, the amount of water on the planet is very small. Oceans account for only a "thin film" of water on the surface.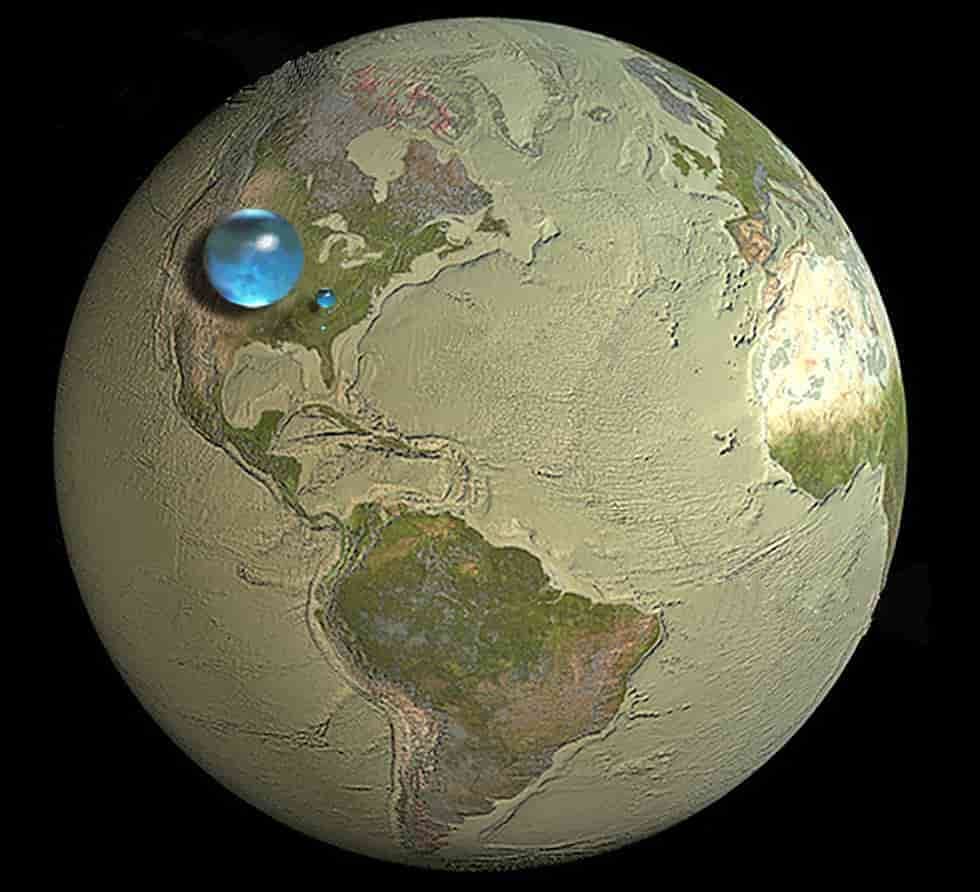 We are already beset by water problems. Although two-thirds of our world's surface is covered by water, about 97% of it is salty. Of the approximately 3% that is not salty, 70% is frozen, which leaves only 0.75% available for the survival of all living creatures outside of the sea. Human global population growth is 83 million more people each year which leads to water resources crises throughout the world. The best example is the growing demand for agricultural products – nearly 70% of worldwide water use is for irrigation. For example, it takes 1,857 gallons of water to produce a pound of beef and 2,900 gallons for a pair of cotton blue jeans.
We have reached a level where the human use of water is outstripping the resupply of water sources. In Europe, 60% of cities over 100,000 people are using groundwater faster than it can be replenished. Recent research estimates that within 15 years, 1.8 billion people will live in regions with severe water scarcity.
Making matters worse, the water infrastructure in most developed countries is aging and not enough steps are taken to upgrade it yet. Without big changes in national policy, local governments and their ratepayers will be largely on their own in paying for the upgrades. The amount of federal money available for drinking-water improvements is just a drop in the bucket.
Replacing a single mile of water main can cost from $500,000 to more than $1 million, but doing so is far more disruptive to customers if it fails first. Experts say a peak of up to 20,000 miles of pipe will need to be replaced annually beginning around 2035, up from roughly 5,000 miles currently. The Philadelphia water department for example, the nation's oldest, is already spending tens of millions of dollars more per year to replace its worst pipes. Yet the city saw more than 900 water main breaks in the most recent budget year.
The Economic Impact of Current Investment Trends in Water and Waste Treatment Infrastructure report shows that drinking water and wastewater infrastructure is aging and overburdened, and that investment is not keeping up with the need.

So what do you think is this ringing the alarm bells ? If you are still not convinced that water is a big deal and you should invest in it then have a look at the Water Conflict Chronology Timeline.
How do you invest in water like Dr.Burry
In an interview with NYmag.com, Burry says he's been interested in water investment for about 15 years. "Fresh, clean water cannot be taken for granted. And it is not — water is political, and litigious," he explained. "Transporting water is impractical for both political and physical reasons, so buying up water rights did not make a lot of sense to me, unless I was pursuing a greater fool theory of investment — which was not my intention. What became clear to me is that food is the way to invest in water. That is, grow food in water-rich areas and transport it for sale in water-poor areas. This is the method for redistributing water that is least contentious, and ultimately it can be profitable, which will ensure that this redistribution is sustainable. A bottle of wine takes over 400 bottles of water to produce — the water embedded in food is what I found interesting."
According to several sources Dr.Burry is buying up almond farms. Why? Growing almonds takes a ridiculous amount of water – 1 gallon per almond. Paradoxically, 80% of the world's almond supply is grown in California, which is going through one of the worst droughts in the state's history. Now, farmers can fallow most crops if there is a drought and just start over the next year. But you can't fallow an almond orchard. An almond tree takes 3 years to mature and produces for 18-20 years. Without water, the tree dies and the farmer loses an enormous long-term investment.
The drought, according to a new report from the University of California, Davis, could cost farmers about $2.00 billion every year and 10,100 direct seasonal jobs. When multiplier effects are considered, losses to all economic sectors will be as high as $2.74 billion and nearly 21,000 total jobs. With surface water deliveries at just 60 percent of normal and the high price tag for drilling a well down into the dwindling groundwater supply, other fruit and nut farmers are having to debate tearing out their orchards altogether.
How do you invest like a Hedge Fund
INVEST IN WATER UTILITIES, INFRASTRUCTURE, AND EQUIPMENT
The American Society of Civil Engineers (ASCE) believes much of our drinking water infrastructure is nearing the end of its useful life.  And it certainly won't come cheap to overhaul. Assuming every pipe would need to be replaced, the cost over the coming decades could reach more than $1 trillion, according to the American Water Works Association (AWWA). The Environmental Protection Agency (EPA) pegs costs for the endeavor at well over $650 billion.
What kind of investments does the country need? New and improved treatment plants, expanded pipes, and better waste-water networks. One way to invest is to buy stocks of individual water utility companies. The water utility space is highly divided, and further privatization could lead to a roll-up play by larger companies, as well as free up access to the capital markets for infrastructure development.
How hedge funds are placing their bets:
(American Water Works) AWK – Funds creating new positions:  57 / Funds Adding to an existing position:    206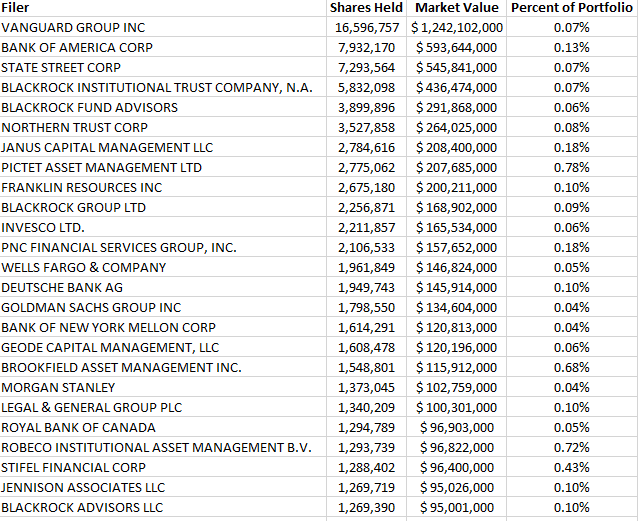 Because water is a basic necessity, these investments really aren't optional. And that plays right into a water utility's hands, since regulators provide rate increases for spending on improvements like the ones that really have to be made. That's a core reason American Water expects to generate growth of around 4% to 6% from its regulated business between 2016 and 2020. The growth that goes along with this spending should help to attract more investors to the American Water Works story. Additionally the company spent more on capital projects last year than it ever has before.
(Aqua America) WTR – Funds creating new positions:  35 / Funds Adding to an existing position:    129
WTR is the second largest water utility operating in the U.S. and the second most geographically diversified in the industry. It operates regulated businesses in eight states vs. American Water's 16. Its projected average annual growth rate of 6% over the next five years is solid, but trails American Water's 7.6%. Like American Water, Aqua America is also pursuing a fairly aggressive acquisition strategy.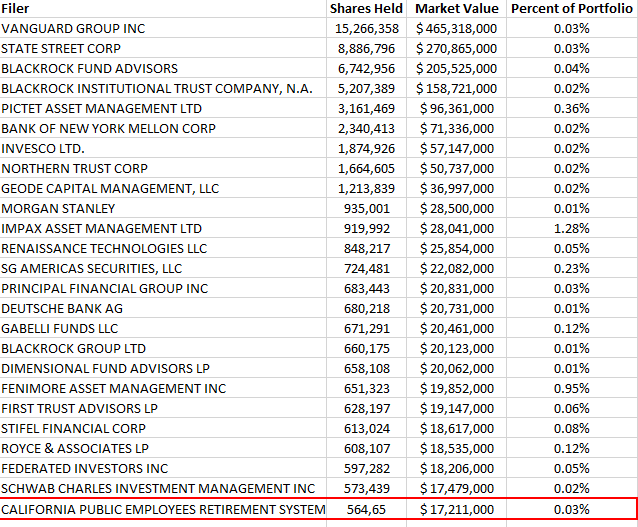 *California Public Employees Retirement System – start thinking about increasing your water investments.
(Calgon Carbon Corp.) CCC – Funds creating new positions:  13 / Funds Adding to an existing position:    63
Calgon Carbon Corporation (NYSE: CCC) (Calgon Carbon, or the Company) announced that it completed its acquisition of the wood-based activated carbon, reactivation and mineral-based filtration media business (the Activated Carbon and Filter Aid Business, or the Business) from CECA. The combined company is expected to be an industry leader in the activated carbon and filtration media market, with enhanced diversification, a strong presence in Europe, and an expanded reach into emerging countries.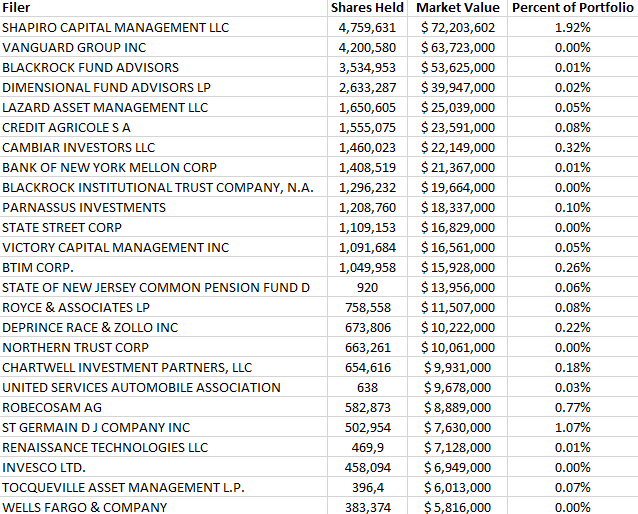 Conclusion: The best way for investors to access this growth opportunity is by investing in companies that supply technologically advanced components and also advise these businesses. If you want to keep it simple you can also invest in Water ETFs. – Guggenheim S&P Global Water ETF (CGW), PowerShares Water Resources ETF (PHO)