How much more can the price of Copper rise ?
The copper bull market looks like it's just warming up. It seems that we are in the early part of this boom and yet the media isn't paying much attention to it.
Copper is on the rise when the industry is booming. In short, copper is used in nearly every major industry of the world: transportation, engineering, machinery and equipment, electrical, building, automotive and computer.Thanks to significant demand worldwide, the base metal has outpaced all of its higher-profile precious peers by a significant margin over the last several weeks. In the short-term we can observe price swings and the bears waiting for a major correction. However the long-term picture monthly view – paints a different picture telling us that this is only the beginning.
World-famous commodities expert Jim Rogers said there are three questions you need to ask (and answer) to determine if a commodity is headed higher in price: How much production is there worldwide? Are there new sources of supply? And are there new potential supplies? So what are the forecasts telling us ? Trends in copper have been "predicting a global pickup in demand for the last couple of months."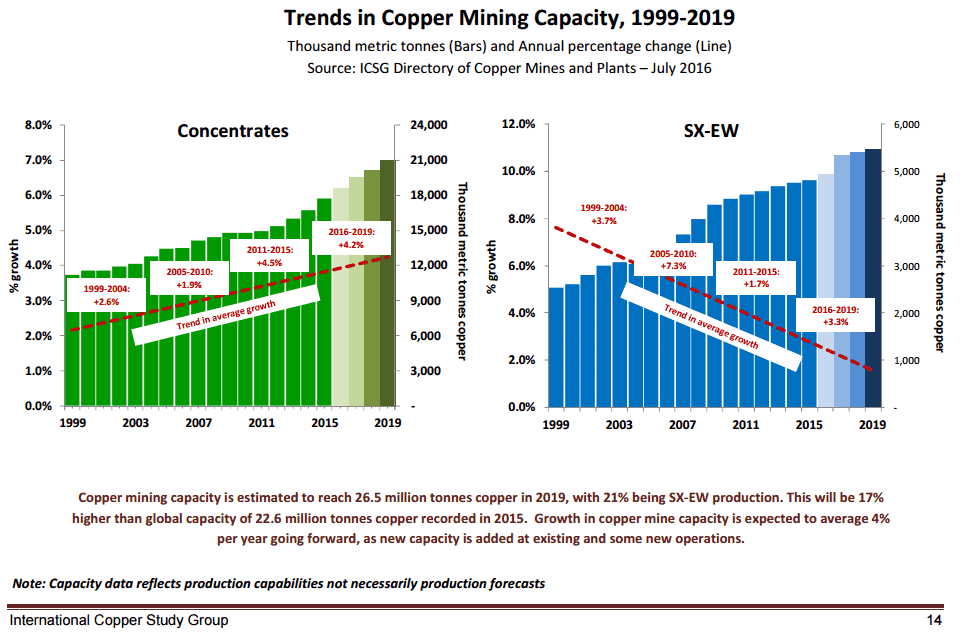 The International Copper Study Group (ICSG) released preliminary data for August 2016 world copper supply and demand in its November 2016 Copper Bulletin. Here is what they say : The market will be very close to supply demand balance in 2016 and 2017, and China is expected to be the biggest contributor to supply and demand growth. China is expected to drive copper production and demand growth in 2016 and 2017. The ICSG also added that the demand is expected to stay the same in 2016 but forecasted to grow by 1.8% in 2017, mainly supported by the increase in industrial demand from China.
Stocks affected by rising copper prices: Freeport-McMoRan (FCX), Glencore (GLNCY), BHP Billiton (BHP), Teck Resources (TCK), Rio Tinto (RIO), and base metal ETFs like the PowerShares DB Base Metals Fund (DBB) and the SPDR S&P Metals & Mining ETF (XME).
China plans to increase power investment by 83 per cent in its 13th five-year plan period ending in 2020, according to Helen Lau, an analyst at Argonaut Securities in Hong Kong.

China consumes 40 per cent of the world's copper, and the power sector accounts for half of the country's copper consumption, she said Tuesday.

"The stronger than expected demand increase in the power sector may re-balance the copper market," she said.

On the supply side, analysts have reduced their forecasts for an expected "wall of supply" next year to a more balanced global copper market. Analysts at Standard Chartered expect mine supply to rise by 1 per cent next year, compared to a 4 per cent growth last year.
What history is telling us :
The most significant rise in copper prices ever recorded was back in 1987 +100% within less than 9 weeks. A long period of extremely low prices was followed by a sustained price boom in 1987-89 – which continued into 1990 for copper, nickel, lead, and zinc. In 1987 the growth of OECD industrial production was the most important factor in the higher metals prices, 2) US dollar depreciation was the dominant contributor to the metals price increase during the earlier part of the boom, 3) supply disturbances and low stocks had positive impacts on the price increases, and 4) excessive market speculation exacerbated the price increases.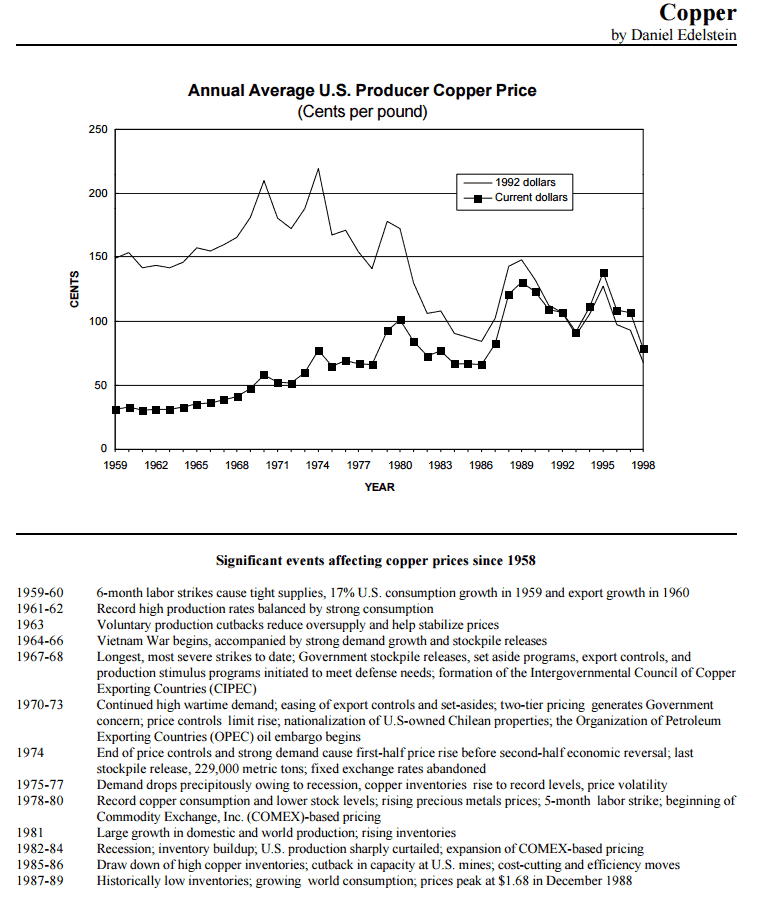 We also scrabbled through some archives dating back to the 80s and this one should be of particular interest to our readers. Funny how history repeats. Reading this should give you a good idea of some possible spread trades.
While economists debate whether another bout of inflation is on the way, Louis R. Cooper, the manager and part owner of Cooper Plumbing and Heating in Ottsville, Pa., thinks it has already arrived.

In the last year – and especially in the last few months – the price of copper has been rising at an accelerating pace, and manufacturers of copper plumbing pipe have passed the increase on to Mr. Cooper. "The price of copper tubing jumped 30 percent in just the last few weeks," he complained.

While Mr. Cooper has also raised his prices in recent weeks, he can do nothing about contracts he had signed with builders before the latest run-up. "I have to absorb the costs," he said. Prices Double in a Year

Mr. Cooper is but one of a growing number of business executives and consumers who must cope with sharply rising prices for metals. Over the last year, the price of copper soared to more than $1.40 a pound from about 60 cents a pound. Nickel has been trading on the London Metal Exchange at about $3.80 a pound, compared with $1.60 a year ago. And the price of semifinished steel has climbed 5.2 percent in the last year, according to the WEFA Group, an economics consulting firm.

For metals producers, who had suffered for several years from low prices and huge losses, the higher prices are a welcome relief. But the prices for copper, steel and nickel have begun to affect other sectors of the economy, raising the costs of everything from automobile radiators to extension cords and from plumbing equipment to copper cookware.

To be sure, the prices of copper, steel and nickel do not necessarily mean that the days of high inflation are about to return. The Consumer Price Index rose only about 3.7 percent in 1987, and the consensus among economists is that it will climb only by 4 to 4.5 percent this year.

For one thing, copper, steel and nickel are not as important to the economy as they once were. Other materials, ranging from optical fibers to plastics, have replaced these metals in many applications – and the cost of these materials has not risen nearly as much.

In addition, other factors are working to keep inflation down. For instance, oil prices have dropped by about $4 a barrel since the summer, and some experts believe they could tumble by as much as another $4 to $5 a barrel by spring. Also, despite a tightening labor market, wages rose less than 3 percent last year, according to Data Resources Inc., the economics consulting firm. Competition from low-wage countries could help keep a lid on wages in the United States, some experts say. The Ripple Effect

Still, many economists and businessmen argue that basic metals prices – now climbing at an annual rate of 10 percent, according to Data Resources – are a cause for concern. For businesses that use these metals, the increase is of paramount importance. Even among those businesses whose costs have not been significantly affected, the increases can raise overall fears about inflation, inducing them to raise prices just to play it safe.

"Metals prices have a disproportionate impact on inflation expectations for the economy as a whole," said Roger E. Brinner, chief economist of Data Resources.

Some economists see the rise of metals prices as yet another indication that the lower value of the dollar is causing inflation to heat up.

A weak dollar is viewed as potentially inflationary: It typically means that Americans ultimately have to pay more in dollars for many of the imports they buy, and higher-priced imported raw materials can result in higher prices for American-made goods.

For one thing, higher import prices give American manufacturers more room to raise their own prices. And even if American manufacturers keep their prices below import prices to increase sales, the added demand can ultimately give rise to shortages of factory capacity, materials and components, as well as skilled workers – all of which can spur inflation. Supplies Tighter

Supplies of copper, nickel and steel have already tightened significantly. In addition to the rising demand, capacity has been reduced. Metals producers in the United States and some other countries sharply cut back on capacity during the early to mid-1980's, when the market was awash with these metals.

The American copper industry has cut back its production capacity by 15 percent since 1982. In addition, political unrest or the depletion of some mines has resulted in a drop in the output of such key copper-producing countries as Peru, Chile, Zambia and Zaire.

Nickel production in non-Communist countries has dropped 10 percent in the last two years. At the same time, demand from domestic producers of stainless steel – who consume nearly 80 percent of the nickel used in the United States – has climbed, helped by a strong export market.

The steel industry's production capacity dropped by about 30 percent, to 112 million tons, in the last five years. In addition, voluntary quotas that the Government negotiated with many foreign steel-producing countries during the lean years when domestic supplies were abundant are still in effect, thus limiting imports.

The major industries that use steel, copper and nickel are being hit hard by the higher metals prices. The Lone Star Steel Company, a Dallas-based maker of oil well pipe, has increased prices by $15 to $100 a ton in the last two months to cover its higher steel costs. Even before such rises, the prices of many types of oil well pipe were soaring because cutbacks in pipe manufacturing capacity had left the industry hard pressed to meet current demand.

Of the metals, the higher prices of steel and copper will have the biggest impact on the economy because they are more widely used, analysts and economists say.

The construction industry accounts for 41 percent of domestic consumption of copper, which is used principally for plumbing and heating equipment and wiring. "Our costs for plumbing work have gone up about 10 percent in recent months," said Donald E. Bennett, vice president of Bennett Builders, a home builder in Westlake, Ohio. "That gets passed on to the home buyer."

Some utility companies say that if the higher prices of copper wire remain through the first quarter they will probably file for rate increases. Consumers Pay the Bill.

Many companies say they have been able to pass the increased costs on to consumers. For example, the Indiana Tube Corporation, a maker of the thin tubes that hold freon in refrigerators, increased its prices by 5 percent two weeks ago. And Kilsby-Roberts Inc., a chain of steel service centers based in Brea, Calif., raised prices by 23 percent on stainless steel rail for cafeteria counters.

Higher metals prices are also affecting the price of consumer goods. "Our prices will certainly be higher this year because of the cost of copper," said Ann Williams, a spokeswoman for Williams-Sonoma Inc., the San Francisco-based company that operates a chain of 53 cookware stores.

Some analysts say that the rise in metals prices might induce some customers to use other materials. For instance, higher steel prices might cause auto makers to substitute plastic for some steel parts, they say. The Lucky Stocked Up

Some metals users say they had the luck or foresight to stock up or sign long-term supply contracts before prices soared. "We buy a lot of copper but it's mostly on a long-term contract basis. So we are not as susceptible to problems from copper price increases," said Frank Thorsberg, a spokesman for the Pacific Gas and Electric Company in San Francisco. But he added that some of the company's copper contracts expire this year.

Analysts differ on the outlook for the metals. Pessimists on the economy predict that metal demand and prices will fall by midyear; optimists say the higher prices will persist until at least the end of the year. – By JONATHAN P. HICKS Published: January 9, 1988
Here is what happened back in 1988: Higher prices did indeed persist till the end of 1988 followed by a sharp decline from January till February 1989. 1990 again a sharp rise in copper prices.
Historical Analysis Must Read -The metals price boom of 1987-89 : the role of supply disruptions and stock changes (English)
The Metals Price Boom of 1987-89 by Milton FMR on Scribd